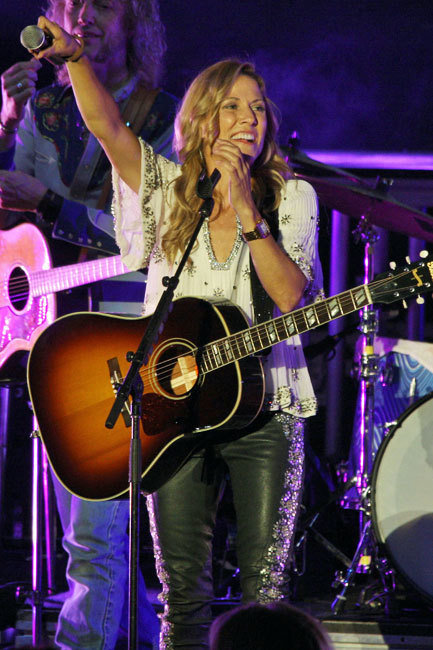 With Sheryl Crow recently scoring her eighth consecutive U.S. Top 10 album with the country-focused Feels Like Home, here's a countdown of her previous seven studio efforts from worst to best.
7. 100 Miles From Memphis

Accompanied by everyone from Keith Richards to Justin Timberlake, Sheryl Crow went back to her roots for an effortlessly classy take on early '70s soul which cleverly avoided descending into pure pastiche.
6. Detours

Largely ignoring the personal battles that she'd had to face during the previous three years, Crow's sixth album was a highly political and environmental affair which consolidated her status as one of America's most intelligent singer-songwriters.
5. C'mon, C'mon

Drifting from old-school Californian pop to classic Americana, Crow returned from a lengthy absence in 2002 with an unashamedly retro record perfectly designed for cruising down the freeway on a hot summer's day.
4. Tuesday Night Music Club

Transforming Crow from a former Michael Jackson backing singer into a star in her own right, 1994 debut Tuesday Night Music Club's infectious mix of classic and contemporary instantly positioned her as the leading lady of the roots rock scene.
3. Wildflower

Often viewed as the lowpoint of Crow's career, Wildflower was criminally under-rated on its release in 2005. But while its eleven lushly-produced tracks fail to make much impression at first, its autumnal charms gradually begin to unfold with each listen.
2. Sheryl Crow

Home to a string of anthemic singles ("If It Makes You Happy," "Everyday Is A Winding Road," "A Change Would Do You Good"), Crow's eponymous sophomore LP was a wonderfully playful blend of alt-rock, blues, country, folk and hip-pop which proved she was far from a one-album wonder.


1. The Globe Sessions

Largely eschewing the poppier elements of its two predecessors, The Globe Sessions was a more introspective and bittersweet effort which saw her make a Bob Dylan out-take her own and produce arguably her most affecting single, "My Favorite Mistake."
hollywood.com